The Royal St. Charles Hotel
135 St. Charles Avenue
New Orleans, Louisiana 70130
Special rates available
Rates subject to availability.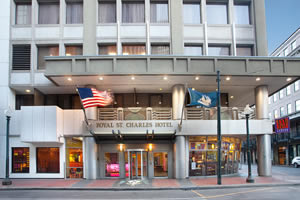 Located across from the French Quarter, the Royal St. Charles Hotel offers the perfect place to experience the rhythm and soul of New Orleans with easy access to explore the Big Easy, a year round Mardi Gras experience and a chill southern vibe.
Enjoy the party atmosphere of nearby Bourbon Street or stroll the quieter side streets and interesting architecture of the French Quarter's historic buildings with restaurants, bars and quaint shops. Jump on the St. Charles streetcar in front of the hotel and head uptown to the art, museum, and garden district.
The Royal St. Charles Hotel is a small boutique hotel, themed around Mardi Gras designed with a vibrant lobby as colorful as the parade floats, glass bead chandeliers and artwork; and King Cake tastings. Rooms are soothing and a great place to retire from all the action. We can't wait to be your home in NOLA.


Amenities include:
143 non-smoking guest rooms and suites
Amenities package includes wireless internet access, two welcome cocktails, King Cake tastings, use of business center, fitness
center, in-room electronic safe, in-room coffee maker with PJ's roast coffee (fee applies)
NEST bath products
24-hour business center (fee applies)
24-hour fitness center (fee applies)
Valet laundry service available
PJ's Coffee & Café – serving coffee, tea, light fare, pastries
Languages spoken: English