Kimpton Hotel Palomar Washington DC
2121 P Street NW
Washington, DC 20037
Special rates available
Rates subject to availability.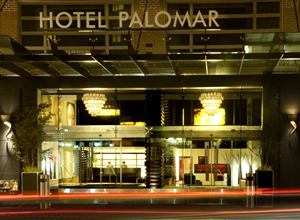 Kimpton Hotel Palomar Washington DC: a little more about us…
It's no secret that DC is full of inspired and inspiring people, and we love claiming a downtown location that sits in the midst of a particularly thriving academic scene. Our hotel's vibrancy reflects the city's dynamic energy, cultural diversity, and global prominence that set the stage for an unparalleled college experience in the nation's capital. Whether you're a student, a family member, or simply an interested visitor wanting to stroll some beautiful campuses, our boutique Dupont Circle hotel makes it easy to explore nearby colleges and universities.
Kimpton puts the fun back in travel by seeing to it that you're inspired by our playful touches and feel cared for in every sense of the world. We have stylish boutique hotels so comfortable you'll be tempted to hang around long after the purpose of your trip. The chefs, wine experts and mixologists at our restaurants are super cool in our eyes. Sorta like rock stars.
It might be a little much to hug each guest who checks in. But really, that's what we try to do in a manner of speaking. We're very concerned that you get a proper night's sleep. We send you off in the morning with a complimentary cup o' Joe, and welcome you back with a glass of wine at our hosted evening reception. We'll take you for a bike ride around town or cheer you on while hula hooping in our fitness center to make sure you get your exercise in. And to make sure you always feel connected, we offer Wi-Fi complimentary to all of our loyalist friends, our Kimpton Karma members. Who knows? After all that, you may just want to give us a hug. Fine by us.


Amenities include:
335 non-smoking guest rooms and suites
Handicapped accessible rooms
Pet friendly (no fee)
Complimentary wired and wireless internet access in guest rooms
Complimentary 24-hour fitness center
24-hour business center
Seasonal outdoor swimming pool
Complimentary morning coffee/tea service
Complimentary evening wine hour
Urbana Restaurant serving breakfast, lunch, happy hour, dinner
24-hour in-room dining
Valet laundry service available
Languages spoken: English, Spanish