Embassy Suites by Hilton Albuquerque
1000 Woodward Place NE
Albuquerque, NM 87102
Special rates available
Rates subject to availability.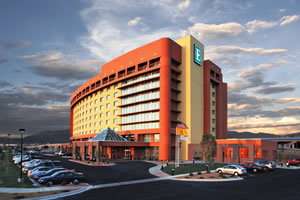 The Embassy Suites Albuquerque – Hotel & Spa is centrally located in downtown Albuquerque and close to the Albuquerque International Airport.
This upscale, all-suite hotel and exquisite spa is also just minutes from a number of exciting Albuquerque attractions, making our Albuquerque hotel the ideal choice for leisure stays. At the Embassy Suites Albuquerque – Hotel & Spa, we're committed to providing our guests with exceptional hospitality and hotel accommodations in Albuquerque, New Mexico.
All of our hotel suites are fully equipped with two 27-inch televisions, a refrigerator, microwave oven, coffee maker, iron, ironing board, hairdryer, two telephones with data ports and a well-lit dining/work table. Guests also have the choice of a hotel suite with one king bed or two double beds, fitted with our 200-thread count Embassy Essentials® Bedding Collection. Each guest will also enjoy a complimentary cooked-to-order breakfast buffet daily, in addition to a nightly manager's reception.


Amenities include:
261 guest suites
Handicapped accessible
Complimentary parking
Complimentary cooked-to-order breakfast buffet
Complimentary evening manager's reception
Caffeina's serving breakfast, lunch, dinner
Cyprus Grille serving lunch, dinner
Cyprus Bar serving light fare, full bar service
In-room dining
Refrigerator, microwave, coffee maker
Languages spoken: English, Spanish, Navajo