Ace Hotel New York
20 West 29th Street
New York, NY 10001
Special rates available
Rates subject to availability.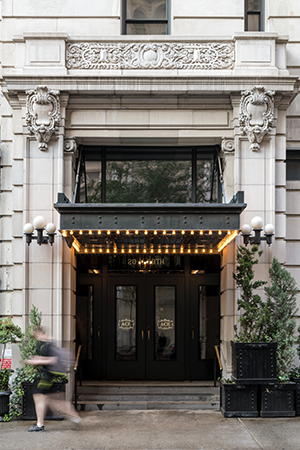 Ace Hotel New York lives in a historic, turn-of-the-century building in Midtown Manhattan, invested with the spirit of its surroundings, the culture of the city and the ancient bones of the building. Ace New York has become a central hub for New Yorkers and international travelers alike, and a hotbed of startups, freelancers and people who just want to kick it. However bustling the lobby gets, the hotel is a respite from New York's mayhem — full of local art, thoughtful details and the best beds in the universe.
We are centrally located, so it is easy to get to museums, shops, restaurants, theaters, parks, arenas, bars or wherever you may be going by foot, cab, bike, train, bus and chopper. We also have some of the best dining and shopping right in the building, so even the agoraphobic will find everything they need without ever stepping foot outside. New York, however, is one of our favorite cities in the world, and there's a lot to explore — we can help you discover and navigate in the wild as well.


Amenities include:
287 non-smoking guest rooms and suites
Handicapped accessible
Minimum age to check-in: 21 years old
Complimentary internet access in all guest rooms and common areas
Complimentary 24-hour fitness center
Valet laundry service available
Rudy's Barbershop bath products
Guest access to turntables, vinyl, and a photo booth
Pets permitted (fee applies)
Languages spoken: English, Spanish, Mandarin, Greek, Romanian, Italian, Tibetan, Chinese, Portuguese